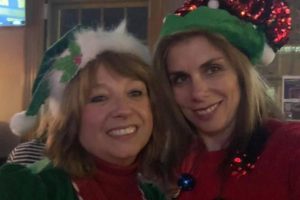 I'm raising money for the NJ CHAPTER of the NATIONAL CERVICAL CANCER COALITION. I'd like to raise $250 for this cause cancer has affected everyone in some way. This is something that is near and dear to friends of mine and because cancer has affected my family and freinds in more ways than one, I would like to do what I can to help my friends cause.
SENDING OUT LOVE TO KATES SISTER GRACIE THIS YEAR MY FUNDRAIZING IS IN HONOR OF HER 
The goal is to raise awareness to this very preventable and curable disease and educate both women and men on how to protect themselves. For more information visit our website at www.nccc online.org The NJ Chapter of the National Cervical Cancer Coalition is hosting its 10th ANNUAL Santa Night. We will be once again dressing up as Elves on December 13th and traveling to local bars and restaurants in the Montclair, Verona, Cedar Grove, West Orange and Caldwell areas to sing and raise money for Cervical Cancer awareness. Through this fundraiser, we hope to directly impact the lives of children in the community by supporting education and prevention efforts that will bring us to the day when not one more child will have to lose his/her mother to cervical cancer. Please consider making a donation during this holiday season! Your donation 100% tax deductible since the NJ-NCCC is a recognized 501(c)(3)charitable organization. Donating through this website is simple, fast and totally secure. It is also the most efficient way to support our fundraising efforts. Thank you!