The Cervical Cancer Quilt Project is a key component of the NCCC public education initiative to raise awareness about cervical cancer. The quilts are made by, or in memory of, women who have battled cervical cancer and precancerous HPV lesions. These quilts are magnificent works of art. They give a human face to cervical cancer and HPV disease, create a compelling sense of urgency about this terrible disease, and serve as a dramatic way of expanding awareness about cervical cancer, HPV and the importance of early detection and prevention. They also reach women, their family members and caregivers in an affirmative way—allowing a cancer message to be absorbed in a comforting environment.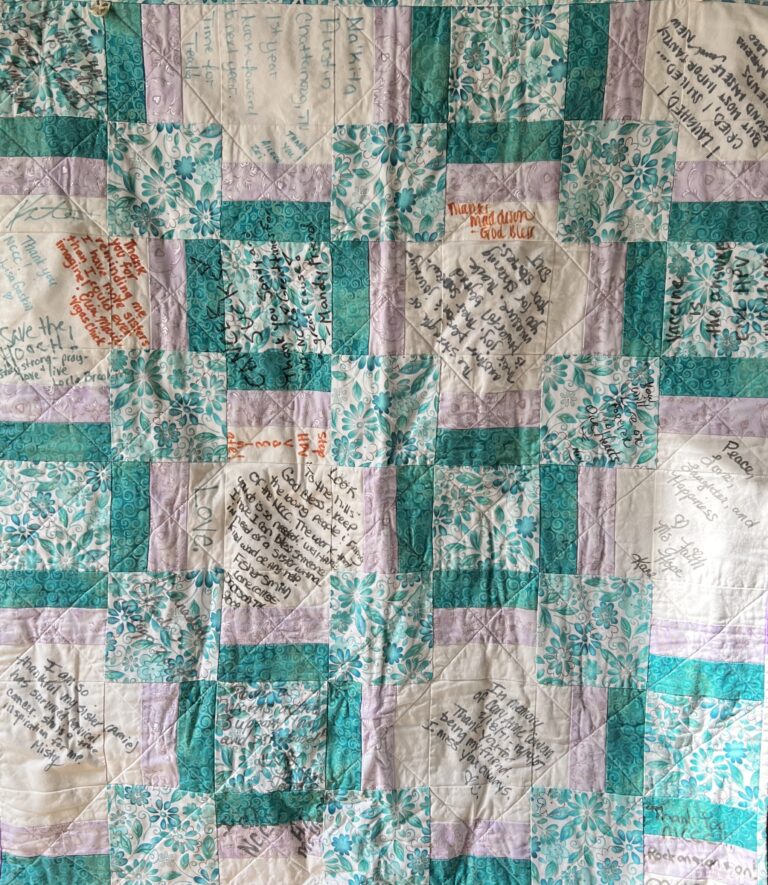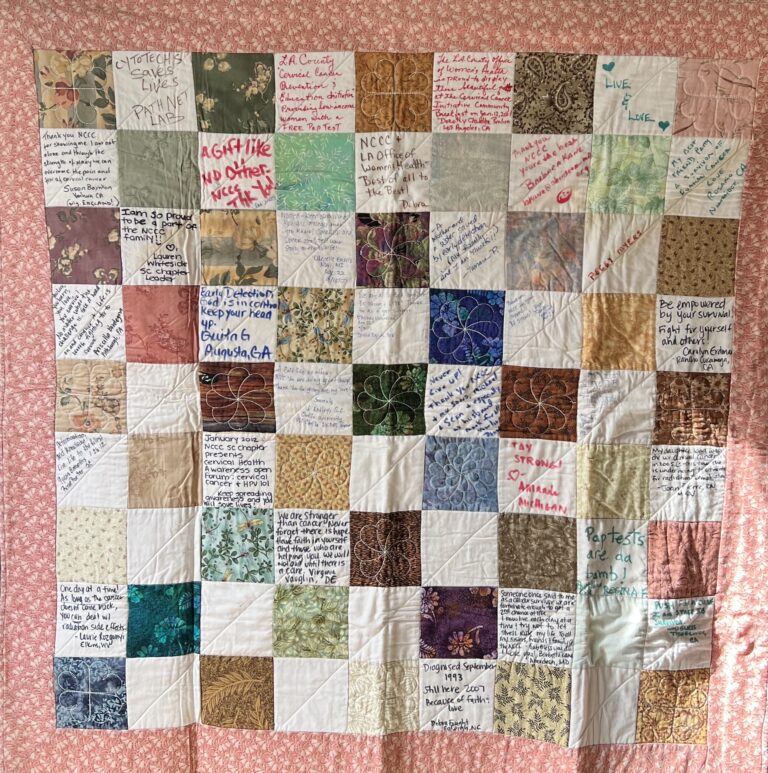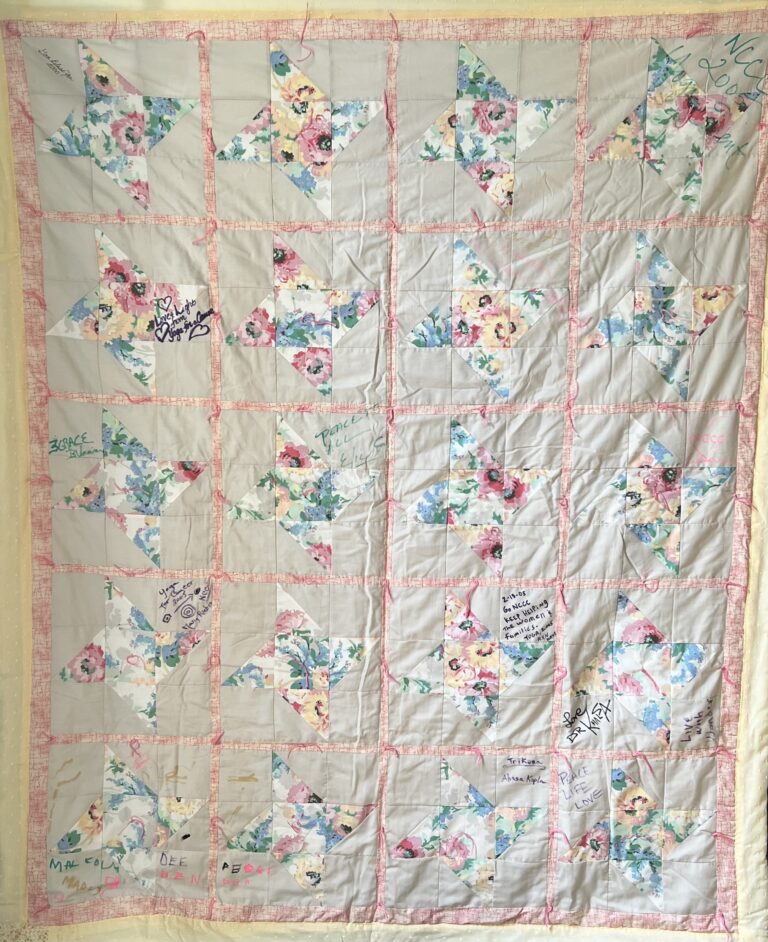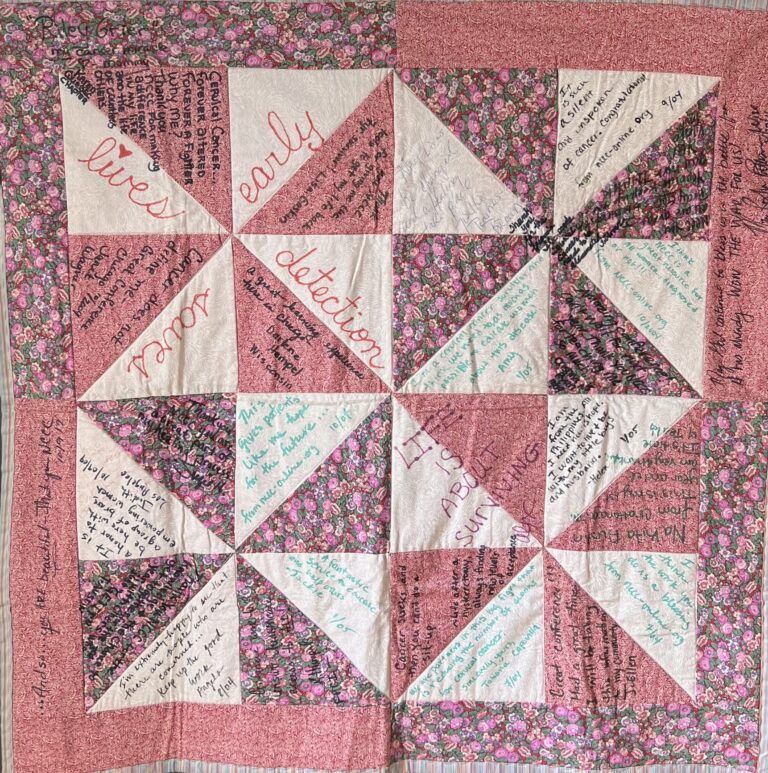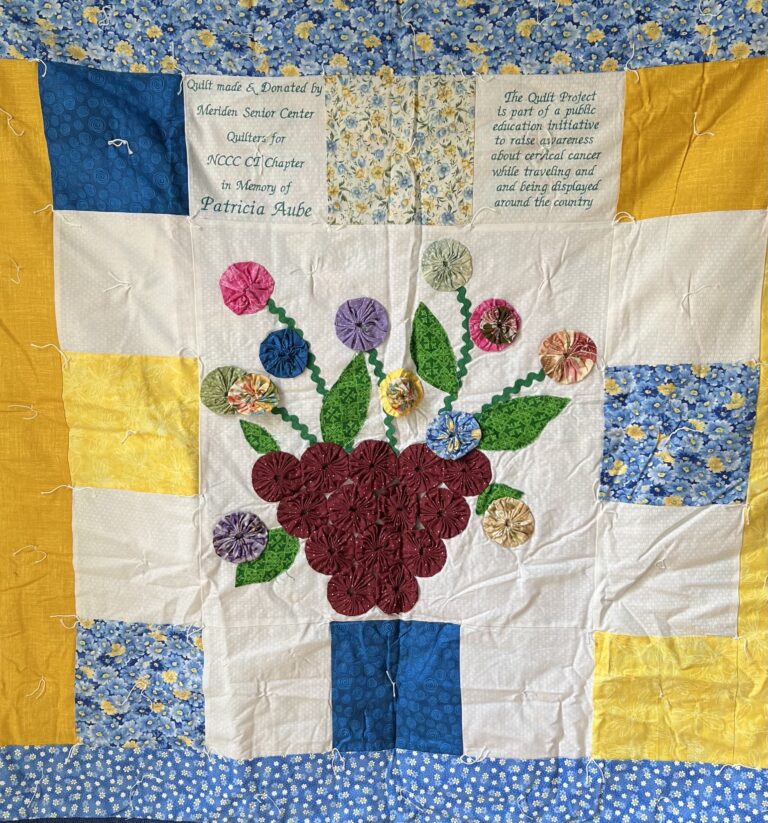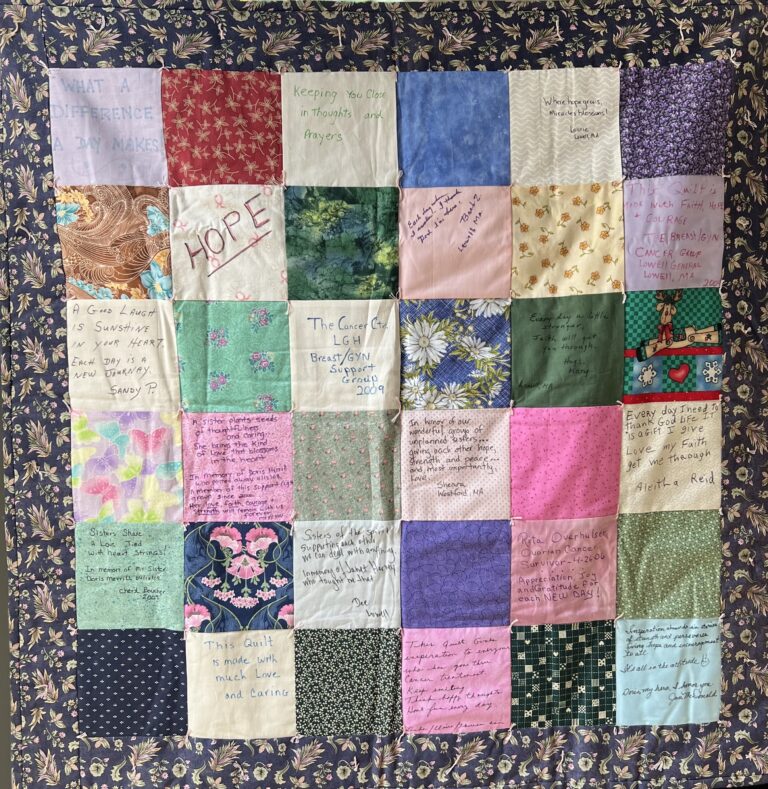 The quilts are exhibited in hospitals, cancer centers, clinics, and at professional and women's health conferences across the country. Beautiful standing alone, they also serve as focal points and powerful visual aids for education programs about cervical cancer/HPV and the importance of early detection and prevention.
With the quilts as a backdrop, physicians, oncology nurses, advocates, family members, women who have battled precancerous lesions, and survivors speak about cervical cancer to their colleagues, women in the community, family members, caregivers and others.
The cervical cancer/HPV education programs provide an opportunity to raise awareness about cervical cancer's risk factors, HPV, early detection screening programs and prevention strategies, as well as to educate survivors, caregivers and families about treatments, new research, management of the disease and the new cervical cancer/HPV vaccines.
Some of the NCCC Medical Advisory Panel members and other cervical cancer/HPV experts are available to speak at programs held in connection with exhibits of the Cervical Cancer/HPV Survivors' Quilts.
Women, family members and caregivers who have battled cervical cancer and precancerous HPV lesions and abnormal Pap tests helped begin this Quilt Project. Mrs. Randi Kaye, a DES daughter, had battled issues related to persistent ASCUS (Atypical Cells of Undetermined Significance) Pap tests, colposcopies and treatment, began The Quilt Project. Randi was diagnosed with an advanced Stage IIIB lung cancer June, 1998, and died June 2001. Prior to Randi's lung cancer diagnosis, she and her husband Alan Kaye, the former Executive Director of NCCC, had been advocates of cervical cancer and HPV issues through the NCCC.
For more information or to arrange to help in the development of quilts, please contact the NCCC at nccc@ashasexualhealth.org. If you would like to request quilts for display at your organization or at an event, please download the quilt request form and complete and return that via email or fax, as indicated on the form.
Have a quilt you'd like to donate? Please mail it to the National Cervical Cancer Coalition (NCCC) at PO Box 13827, Research Triangle Park, NC 27709. If you need instructions, please download the file.