Free Materials from NCCC
NCCC offers fact sheets about HPV and cervical cancer topics available free for download. These copyrighted materials may be reproduced but are not intended for commercial use or resale.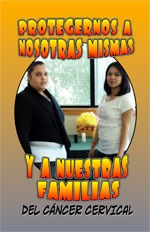 NCCC is also pleased to offer a free fotonovela in English and Spanish: Protecting Ourselves and Our Families from Cervical Cancer/Protegernos a Nosotras Mismas y a Nuestras Familias del Cáncer Cervical. Latinas have the highest rates of cervical cancer of all groups of women in the US. This fotonovela shares the facts about HPV and cervical cancer prevention,from HPV testing to vaccines, through the story of two friends, Sara and Lucia.
The fotonovela is available as a free PDF download. The Spanish version is also available in digital format and can be embedded on your own website using code available here. The digital fotnovela can be viewed below.
---
---
Free Materials from the National Cancer Institute
The National Cancer Institute (NCI) offers publications on a variety of cervical cancer topics including testing, treatment, vaccines, and lifestyle issues. NCI publications are free, however there are some limits to the number of printed copies that may be ordered, and shipping costs may apply. NCI materials may be downloaded and printed for free as well.
Some titles on cervical cancer that may be of interest include:
What You Need To Know About™ Cervical Cancer. This 45-page booklet describes possible risks, symptoms, diagnosis, and treatment for someone recently diagnosed with cancer. Includes questions to ask the doctor. Also available in Spanish.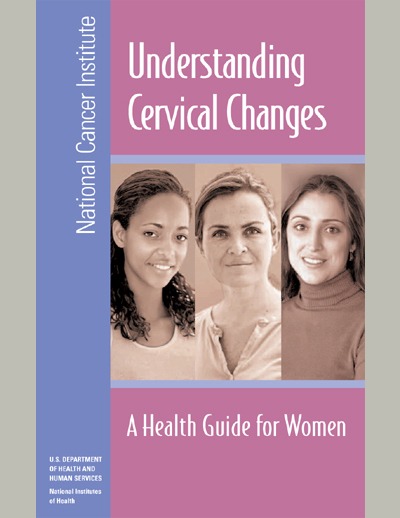 Understanding Cervical Changes: A Health Guide for Women This 36-page booklet provides information on common changes in your cervix, Pap and Human Papillomavirus (HPV) testing, and interpreting test results. Features detailed tables with information on Pap/HPV test results and follow-up, abnormal Pap test follow-up treatments, results from biopsy or endocervical curettage, and treatment for major cell changes. Includes questions to ask your health care provider, resources for more information about Pap testing and HPV, and a dictionary of cancer terms.
Materials from ASHA
The American Sexual Health Association (ASHA), parent organization on NCCC, is America's authority for sexual health information. ASHA is an award-winning and trusted non-profit organization that has advocated on behalf of those at risk for sexually transmitted infections (STIs) since 1914. We offer patient education brochures for organizations (e.g. college health centers, health clinics, STI clinics) as well as information packages for individuals.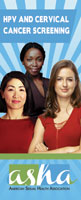 HPV and Cervical Cancer Screening is one of ASHA's best-selling brochures for a reason–patients who receive abnormal Pap test results have many, many questions. This brochure helps answer these in a clear and easy-to-understand manner. Offering both an explanation and easy-to-understand chart of the range of results from Pap tests and the implications of each, this brochure helps clarify a confusing subject for patients. It also discusses possible follow up procedures, and treatment options. A pack of 50 brochures is $17.50.
---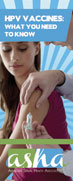 HPV/cervical cancer vaccines have great potential as a public health tool, with two vaccines now available for both males and females. In clear language, ASHA's HPV Vaccines explains both HPV disease and the benefits of vaccination to patients. The brochure gives an overview of low-risk and high-risk types of HPV and answers specific questions about HPV vaccines, addressing issues of safety, efficacy, ACIP recommendations and cost. Drawing on the latest research developments, the brochure also answers questions about vaccination for women over 26, the use of vaccine as treatment, and the need for continued cervical cancer screening after vaccination. A pack of 50 is $17.50
---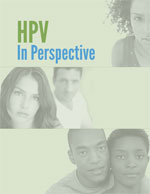 HPV in Perspective is an essential guide for the newly-diagnosed patient, or anyone looking for more detailed, comprehensive information than found in a basic brochure, HPV in Perspective covers all aspects of human papillomavirus infection. This booklet addresses such topics as types of HPV ("low risk" and "high risk"), transmission, HPV and pregnancy, cervical cancer screening, treatment for genital warts and cervical dysplasia, and talking with a partner about a diagnosis. Sold as an instant PDF download for $4.95.
---
Additional Resources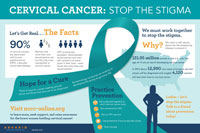 This infographic offers basic information about HPV and cervical cancer along with essential prevention messages, encouraging regular screening and vaccination.