Stories from cervical cancer patients and survivors
This year, about 14,480 new cases of cervical cancer will be diagnosed.
And behind very new case is a patient. With their own story.
Patient stories offer powerful insights that go beyond the statistics and outcomes, as those affected by cervical cancer have an understanding of what the journey is like. For patients diagnosed with cervical cancer and survivors, stories from others who have been through the same experience can be a source of comfort and support, and occasionally offer guidance on how to manage the experience. For spouses and family members, such stories can offer a window into the world of their loved ones. Healthcare providers also benefit from the insight offered by patients—insights they may not otherwise hear.
We are grateful that several patients and survivors have shared their stories with us, so we can pass on their insight and experiences to you. If there's one message you can take away, it's that—you are not alone.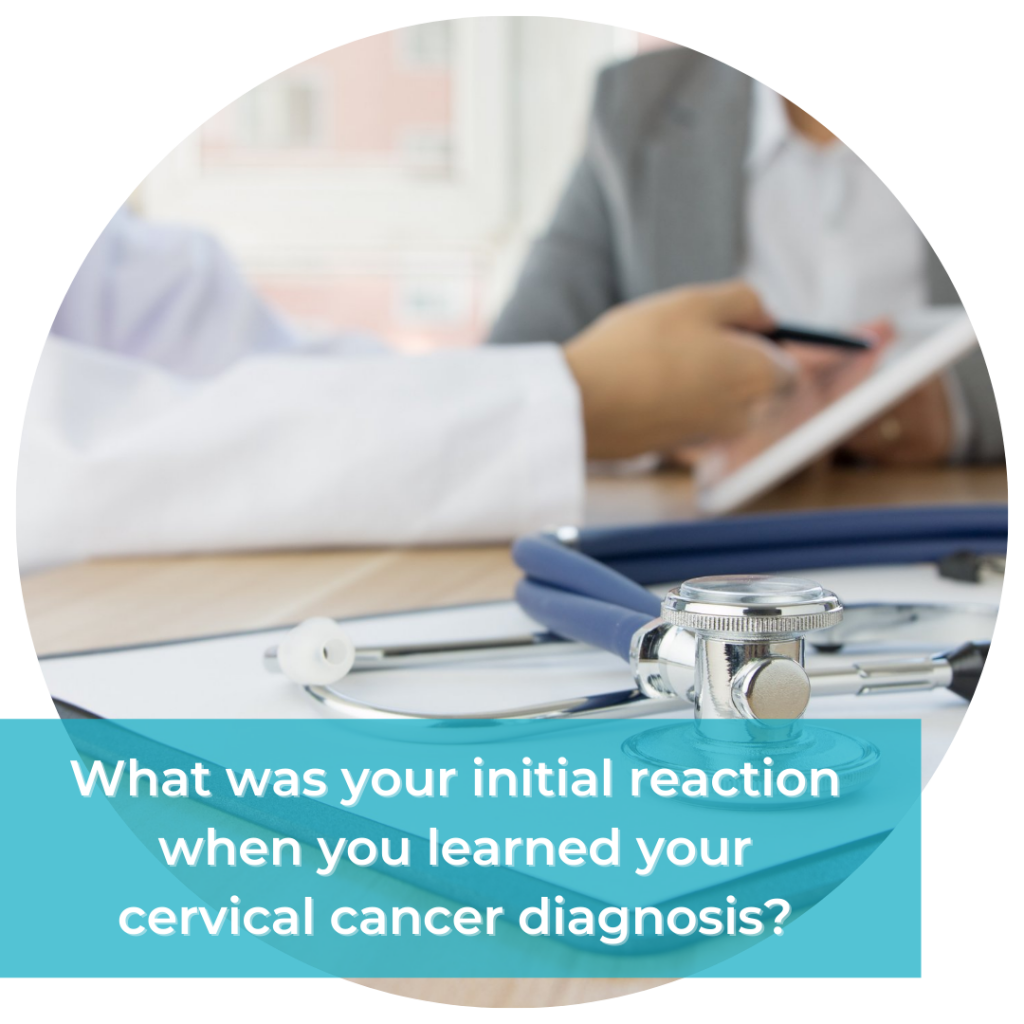 I received a call from my Gynecologist in March 2015 telling me I had cancer. I was so confused…she had suspected something from a "fibroid" that was growing large. She never told me she suspected cancer. All of my Paps were negative for two years prior to this.
I was overwhelmed with emotion because it was completely unexpected. Immediately I thought I was going to die after seeing my father go through colon cancer and pass away. I had been complaining for over a year about heavy bleeding, and I was told I had fibroids. After getting a scan, I had a 5 cm tumor. I couldn't believe that my doctors had missed this for so long.

—Shari
It's been a long time since my original diagnosis but I am sure it was shock. When I've been diagnosed with a recurrence I feel dread. Dread for many reasons, having to tell my family and seeing their pain and dread that the treatment will be brutal. I also feel exhaustion. Figuring out what's next in a cancer diagnosis is exhausting.
—Linda
I was aware something was wrong, but cancer was so far away from my mind. Initially I was upset but within moments felt like I was hiding from the doctor behind my own hair. Like I wanted to disappear and used the only resources I had available.
—Christine
It was surreal! It felt like I could be waking up from the nightmare any moment! I was given my diagnosis in the emergency room and so there was so much going on already. I don't think that I truly was able to process that information right away. But if I had to sum up all my feelings into one word I'd say, "terrified!!"
—Stephanie
I remember sitting at my desk at work when my doctor called with my results. Her voice began to shiver as she read to me my positive for cervical cancer results. I initially zoned out. All I could see was a black dark tunnel with muffled sound. Then I gathered myself, thanked her for the call, then called my husband. A sudden peace flooded me which allowed me to calm my emotions and racing mind.
—Tarteskikar
My initial response was disbelief. How could I, at age 33, be diagnosed with a bad Pap smear?  I had two normal vaginal births with no issues. When my youngest was four years old, I went for my annual exam. It came back as not being normal, but didn't raise any red flags. They said come back in three months. I did, and was thrilled to have a normal Pap smear. Just to be on the safe side, my gynecologist wanted to test me again, three months later. This time, it came back much worse. I was in shock. The lab results showed that it had spread. He removed my uterus and sent it to pathology. The results showed it had an unexpected type of cancer—adenocarcinoma, a rapidly spreading cancer and is deadly. Had I not decided ahead of time to get a hysterectomy if it had spread, I might have died in just a few months. All of this took less than six months from the first abnormal Pap smear. Please! Get your Pap smears!
—Julie
My initial reaction to finding out I had cancer was fear and darkness.
—Andrea
I initially learned of my diagnosis during my first year of medical school. It all had happened very quickly. I was shocked as I had never had any kind of abnormal Pap smear prior to this. At the time I had so many other things going on with school that I think I somewhat just buried a lot of my emotions and just kept pushing on with studying and exams and scheduled my appointments and surgery around everything with school. I don't think I really began to see how it all impacted me until later on when I was on my clinical rotations during third and fourth year.
—Megan
I was surprised of course, but immediately knew I had to put on a calm and rational front for my family. I needed to be the rock.
—Justine
Guilt and shame. It took my a long time to move on from that and move towards acceptance and advocacy.
—Gretchen
What was most helpful to you when you were first diagnosed?
What advice would you give healthcare providers about how to best support patients during their diagnosis?
First I would say that whether or not it's caught early you still need to have some tact. I was told over the phone while driving to work. I still don't know how I made it there. Be mindful and empathetic.
—Andrea
Leave room for hope. I don't know how helpful it is to tell patients their outcome is poor before attempting treatment especially in the case of a recurrence. We know it's going to be hard, but there is always the chance that things work out for us or at least gives us enough time to return to a pretty normal life, such as in my case. And I also understand statistically it's not looking good, but maybe it's time to change the conversation and keep certain dialogue in your back pocket until it's an inevitable thing to discuss.
—Christine
I would say to treat your patients as you would want and your family would want to be treated and not as a number. Empathy for your patients are vital in the care and healing process. Be open minded to not just see one side—surgery, chemo, radiation—as that takes a tremendous toll on your body and immune system. It's important to not discourage anyone from seeking alternative treatments. It takes a lot to fight illnesses of all kinds and there are many ways outside of the box that can help people do that. All of it is just as important and plays a major part of our health and healing.
—Veronica
Respect for the patient
as an individual
Listen to the patient. They know when something isn't right in their body. Their input can make the difference between life and death sometimes.
—Visleyn
Not every woman is interested in saving her uterus.  Please don't try to talk people out of that treatment plan if they want it, even if they have not had biological children yet.
—Justine
One thing that I have shared with nursing students when invited to speak to their classes is that this might be your 1000th patient with cancer but it's this patients first time with cancer.  The things that are happening are not routine for us and just because it's common for you, it's scary and unnerving for us.
—Linda
Be honest! Don't hold anything back. Make sure you tell the patients all the side effects of treatment.
—Laurie
I would say in order to best support patients they have to be completely honest with them. No false hope or sugar coating anything. Also, I think its super important that patients know that they can select the doctor that best suits them. And not just to settle for whomever they are given if they're not comfortable with them.
—Stephanie
Sometimes, the patient becomes the provider...and can apply the lessons learned.
As someone who is now a fourth year medical student and will officially be an OB/GYN healthcare provider myself in the next few months when I start residency, I am definitely in a unique place. This experience has really shown me a patient's perspective and is a huge reason why I decided to become an OB/GYN physician. I think the biggest insight I have gained from all of this is to realize that every patient has their own story, their own struggle, their own battle that is going on even outside of their medical diagnosis. Your patient might need support outside of anything medical that you can help them with. I hope to be an advocate and resource for my patients for whatever they may need, no matter what it is. I hope to be someone who is open and welcoming that my patient's can feel comfortable with and turn to when they have questions, concerns or fears.
—Megan
What has been the hardest part of your journey?
The hardest thing I have had to do on this journey is tell my children and parents that my cancer had returned.  It was harder than any treatment I have done.  To see and feel their pain is heartbreaking and there's nothing I can do to make them feel better.
—Linda
I told myself during treatment that I could do anything for a few minutes.  And, there were a LOT of "bad" moments.  But I learned to count.  And, somehow that got me through.  The treatment was the worst part.  It was awful. I had external radiation—36 rounds.  Chemo—6 treatments.  Internal radiation—I was in the hospital for a week.  A full hysterectomy.  And, many many other trips to the hospital.  I had 17 units of blood.  I had numerous infections and dehydration issues, and just on and on.  It. was. hard. But I told myself, and my primary oncologist said to me, "you will get through this."  And, I did.
—Kathryn Jane
Being told my cancer is incurable and has returned three years after the first round of treatment was absolutely devastating. Our youngest child was about to be born through surrogacy and I knew that I wouldn't be able to be a mother to him or my oldest son during treatment. I felt terrible that my oldest had to go through this with me again. I went through a severe depression and grieved the life I thought I'd have. Along with the devastation I experienced, it was also the hardest therapy I'd ever had and caused me to lose my hair and overall weakened my body permanently.
—Christine
My fertility being put into question. Thank goodness, I was able to persevere mine through the surgery I received. Since I was 22 when I was diagnosed, it was a difficult concept to accept.
—Gretchen
The many surgeries I've had after my diagnosis. It has stalled my life and any desire to make future plans, it feels like it steals my time. Starting over after every procedure. Also having to explain to my family and friends that I need yet another surgery and their disappointed faces.
—Visleyn
The hardest part of my journey was acceptance.  I struggled with accepting that my body was weak and at times all I could do was barely open my eyes. I struggled with needing help from others when I'm the one always providing the help. It was extremely difficult for me to halt for a moment, as I'm an always-on-the-go person. I didn't want to accept the fact that an uninvited Intruder was invading my life and all I could do was stay positive as I commanded it daily to leave.
—Tarteskikar
The hardest part was the end of treatment. After going through surgery, radiation and chemo, my body and mind were toast. I had no energy and I had major pain from everything. After having a plan for every day of the week and doctors to see, it's over and you're left to just wait. I went to counseling and continued to work on my body and my mind. I began reading about natural medicine and working on correcting my body's deficiencies. I changed my diet to help my body recover and continue to heal. It took about eight months to get back to somewhat normal. I began Yin Yoga as well and that was so helpful in restoring my body.
—Shari
The PTSD that we live with. You may not have cancer but it sometimes feels like cancer has YOU for life. It causes anxiety and stress but day by day it differs.
—Andrea
Having that fear and uncontrollable uncertainty where you don't know if you're going to get through it or what the outcome will be is very scary. If your cancer is going to come back, that fear subsides as time passes you don't think about it as often however each time you have follow up appointments and ultrasounds no matter how much time has passed that reality is there. I've not been someone who has always wanted children, however when that choice is taken away from you to have them naturally it's a harsh reality.  It's important to have support from as many outlets as possible, it's vital in your healing journey.
—Veronica
Where are you in your journey now?
I'm on my sixth recurrence. I'm in the process of figuring out what the treatment will be for this recurrence. I recently had surgery to remove a 10cm mass from my rectum and now have an ileostomy. I'm hopeful it can be reversed soon but I'm likely facing chemo for a few months. I'm feeling good and ready to get going with treatment. I have lots of living to do!
—Linda
It's been 10 years. I have daily issues with my bladder and my colon. My legs and hips ache and aren't very strong. But, I deal with all of it. I will not let it stop me.
—Kathryn Jane
I have been cancer free since may 2015, but I've had at least one surgery a year since. Feels never ending.
—Visleyn
Being that I'm no longer curable, but have surpassed my less-than-two-year mark by two years so far now, I feel truly grateful for the chance to survive one more day. I was in remission for two years while being given the experimental drug once every three weeks, until it started to damage my internal organs severely and i had to stop receiving the treatments. I am scanned every three months to keep a close eye on new progression. I do however feel nervous that the only one thing that was able to keep me alive beyond the doctors expectations, has had to be discontinued…
—Stephanie
Terminando una etapa de mi vida que jamás pensé superar pero lo hice gracias al apoyo de todos.
—Francisca
Translation: Finishing a stage of my life that I never thought to overcome, but I did it thanks to everyone's support.
I am over six years out from my surgery and treatment. Sometimes, I still can't believe I'm here. My youngest daughter just turned 16 and got her driver's license. Things like this hit me hard and I just cry, as I'm so appreciative to be a part of life and my family. I still suffer treatment side effects such as lymphedema in my right leg and bowel issues, but for the most part I live a normal life. I work a lot less and spend as much time as I can with my family.
—Shari
Today, I'm celebrating my fifth year of being cancer free!!!! I'm advocating, educating and LIVING a life of GRATITUDE!!
—Tarteskikar
I am finally speaking out about what I went through, and it was so liberating.
—Gretchen
I have always been one that has a love for traveling. However after something happens to your health personally for me it's really opened my eyes that I have to live fully in the moment and appreciate each day as a gift. I feel that this experience has made me stronger that I could have ever imagined. It allowed me to look at my life as it's not guaranteed and to do as much as possible with the time I am given. It encouraged me to travel as much and as often as possible over the past years. It taught me to be more appreciative and grateful for my life, and my loved ones. Seeing life from a different perspective.
—Veronica
What other final words of support or advice do you have for other patients
diagnosed with cervical cancer?
Try to stay positive! It really makes a difference.
Connect with others who have gone before you. Connect with others who are going through it now. They need you. You need them. Don't do it alone.
Don't beat yourself up, I know there's a lot of guilt attached to being ill. Take one day at a time and don't let cancer take the best parts of you. You are magic!
Look into online support groups! Only other patients can truly understand what you're going through. I have found Facebook groups, and Instagram accounts like @thecancerpatient to me instrumental in my emotional healing and handling the overall impact of the unknown. Be prepared to lose some friends and make some new ones! Don't miss radiation treatments and listen to your oncologist! When you are ready to learn everything, go on reputable websites and learn everything you can about cervical cancer so you know exactly how to advocate for yourself.
Get treatment as rapidly as possible. Try to get the most up-to-date radiation treatment possible to spare your organs and use ice treatments with your chemo to prevent peripheral neuropathy.
Take it day by day. It is not a sprint, but rather a marathon. I believe treating cancer is a total body and mind approach. Look into helping and healing your mind from disease as well. Embrace family, friends and support groups and know that you are loved.
Keep your head up, nothing you have or haven't done will change anything. This is a part of your life journey and keep fighting my beautiful strong teal sisters.
Talk to your physicians if you have questions. Try to avoid Google—I know it's hard. But you will get lost and overwhelmed and stressed about information that might not be accurate. And as a future OB/GYN provider, we have the best resources for your management and care so please be open to asking questions!
Give yourself grace, before, during, and after treatment. Trust your body and your spirit and advocate for yourself!
If you're not completely comfortable and happy with your doctor you have the right to find a new one or get a second opinion.
Do not accept defeat! Educate yourself. Allow your loved ones to be there for you and help you both mentally and physically. DO NOT SUFFER IN SILENCE! Connect with support groups and other CHAMPIONS.
I don't feel I'm in the place to offer advice for those who have had cancer spread. All I can say is having annual exams is the single most important thing a woman can do for yourself.
Seek out resources from support groups, alternative therapeutics yoga, sound healing, meditation, spirituality, exercise, acupuncture. Educate yourself on health, and what you can do for your immune system. Vital to get emotional support from the community as well as friends and family to aid you in all avenues for your health and healing process. Focus on yourself, affirming and instilling positive, uplifting feelings about your health. You are stronger than you know.
Have hope. There is research being done to find new treatments for cervical cancer. There are options and that always brings me hope.
Acceptance. Honesty. Openness. I wish I had been brave enough to be more of these things when was going through my struggle.
No pierdan la fé. Van haber días malos y buenos pero no dejen que lo días malos cambien los buenos. Si yo vencí el cáncer, tú también lo puedes hacer. Siempre ser POSITIVA.

Translation: Don't lose faith. There will be good days and bad days, but don't let the bad ones change the good ones. If I beat cancer, you can too. Always be POSITIVE.
We want to thank all of those who helped contribute to this page by sharing their personal stories with us. We are so grateful for your time and your insight.