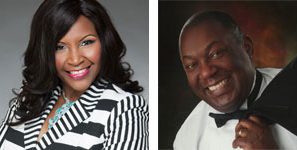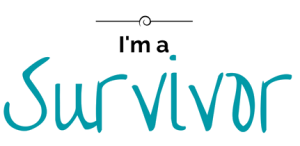 Chapter Leaders:
Alegra Woodard
and
Bobby Woodard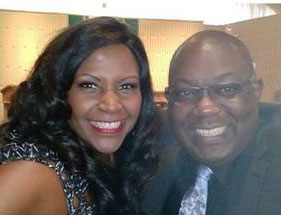 Bobby and Alegra Woodard are NCCC chapter leaders in Northern Virginia. This decision is born out a desire that no other woman, family member or friend feels alone while battling cervical cancer and HPV (human papillomavirus). Their motivation is also rooted in the fact that Alegra is a cervical cancer survivor. They are passionate abut helping others because they understand firsthand what it means to be diagnosed with a disease that kills more than 4,000 women in the U.S. each year, even though it is a preventable cancer. The majority of their efforts are focused toward providing support, raising awareness, and providing educational resources and other crucial information to survivors and their families. Want to learn more about the chapter? Interested in volunteering for an upcoming event or fundraiser, or just getting more information? Contact
Alegra Woodard
or
Bobby Woodard
to learn more. You can also visit the
local events page
to check the calendar of events for this and other local chapters.
---
Alegra's Story
The Esperanza Quilt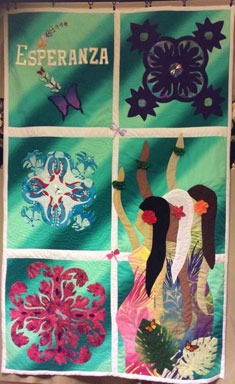 The
Esperanza quilt
was designed in honor of Alegra Woodard, chapter leader of the NCCC Northern Virginia Chapter. Mrs. Woodard was diagnosed with cervical cancer in Hawaii in November 1999 and the theme designs in the Esperanza (which means "hope" in Spanish) quilt reflect the island's heritage. The quilt was hand made by Ms. Mona Ancheta. Ms. Archeta was taught by master quilters and designers, the Serrao Ohanahas, and has been making Hawaiian quilts for more than 30 years. The designs on the quilt were personally chosen by Ms. Archeta:
The Hula Ladies depict women of color and age affected by cervical cancer.
"Pua Loke Keiki" (young flower rose) in pink and purple resembles fallopian tubes.
"Lei Lehua" (lehua flower lei) in teal, white and red resembles the cervix.
"Na Lani Pule" (Heavens Prayers) expresses prayer for all women who battle this disease. Designed by Poakalani, the center of the quilt design depicts hands reaching out in prayer to the four corners of the world. The star flower in the corners with the holes cut out indicates the gateway to the spiritual world. This design was selected for Alegra for her devotion to God and her continued prayers for all her sisters of cervical cancer.
The dragonfly and butterfly symbolize self realization and change. This is a life changing process… self realization, the courage and fortitude to battle and to overcome cervical cancer. In the end, these courageous women shall emerge from their darkness (cocoons) and become victorious survivors!