Click here to read Juana's story.
Recent Event: See, Test & Treat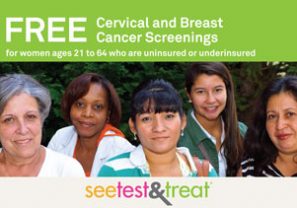 Chapter leader Sonia Robazetti, MD, coordinated the See, Test & Treat event, offering free cervical and breast cancer screenings for uninsured or underinsured women ages 21 to 64. Pap tests, mammograms (ages 40 to 64) and testing for human papillomavirus (HPV) were offered with same-day results. Thanks to Dr. Robazetti's efforts, 107 patients were screened at the event.
Want to learn more about the chapter? Interested in volunteering for an upcoming event or fundraiser, or just getting more information? Contact the chapter to learn more.
You can also visit the local events page to check the calendar of events for this and other local chapters.