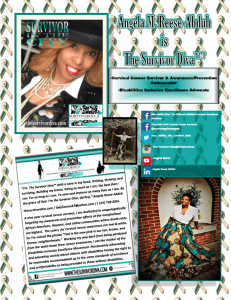 Chapter Leader: Angela Reese
Angela Reese is a passionate communicator, cervical cancer awareness and prevention ambassador, and diva of faith with determination who became wheelchair bound and cognitively impaired as a result of radiation and chemotherapy treatments to fight cervical cancer. Her personal challenges with disabilities and prior career experience in therapeutic recreation, fueled by her spiritual calling to help others, inspired her to create thesurvivordiva.com.
Angela is the Founder Emeritus of the Cultivating Proverbial DIVA Society™ (Proverbs 31 DIVAS), a faith-based organization created to raise the standards of integrity in females to positively impact families; to improve social conditions in society by providing character and self esteem building programs and spiritual growth activities for girls, young adults, and seasoned women, including etiquette training and opportunities for intergenerational service learning projects in long-term care nursing facilities. As a connoisseur of extraordinary experiences, she also specialized in creative special events. From concept inception to planning, design, and coordination, Angela has a reputation for having a flair for the fanciful, dedication to the meaningful, and a heart to be helpful.
Angela used her life changing experiences of being diagnosed with cervical cancer and all of the challenging circumstances she faces after experiencing physical and cognitive disabilities to redirect her focus in life, but not change her purpose. She is the visionary, website designer, editor, and publisher of thesurvivordiva.com digital media resource, and mother of the Disabilities Inclusion Excellence Movement, advocating that citizens with disabilities have the right to be reasonably accommodated to experience the same level of comfortability in society and standards of excellence in services that is being provided to citizens without disabilities. Angela's pioneering spirit has led her to start the NW Philadelphia Chapter of the National Cervical Cancer Coalition (NCCC). She has also initiated the PA Cervical Cancer Collective (CCC) for the global elimination of the disease by implementing strategies of the World Health Organization. She serves on the Leadership Team for the Enon Tabernacle Baptist Church Cancer Survivor Support Caregivers Ministry. And she also advocates on behalf of black women and girls as a member of The National Coalition of 100 Black Women (NC100BW).
In January 2020, Angela gave public comment at the Philadelphia City Council in support of a Cervical Cancer Awareness Month Resolution that she wrote and proposed behalf of herself, the NCCC, and the Coalition of 100 Black Women, Inc-PA. The resolution was introduced by Philadelphia Councilwoman Cherelle Parker, voted on and adopted in Council Chambers at Philadelphia City Hall.