Chapter Leader: Sandy Cowan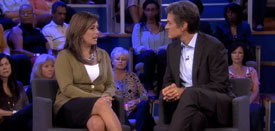 NCCC NJ Chapter Leader Sandy Cowan appeared on the Dr. Oz show on October 11, 2012, to share her story and raise awareness about HPV and cervical cancer. Sandy discussed her sister's devastating diagnosis with stage 4 cervical cancer at the age of 36 and spoke about the importance of regular screening for early diagnosis of cervical cancer. Talking about her sister's experience, Sandy notes, "By the time she was diagnosed, it was too late."
Click here to watch part 1 of the segment with Sandy (starting at 3:58) and here for part 2.
Sandy also shared her story with cervical cancer survivor advocate and advocate Tamika Felder for her project, Cervivor. In her interview, Sandy discusses why the HPV vaccine is important to her and why she has no hesitations about getting her children vaccinated.
Want to learn more about the chapter? Interested in volunteering for an upcoming event or fundraiser, or just getting more information? Contact Sandy Cowan to learn more.
You can also visit the local events page to check the calendar of events for this and other local chapters.