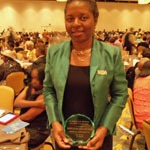 "Cervical cancer is one of the few preventable cancers. As a chapter leader who is a healthcare provider and educator, I have the opportunity to increase awareness about cervical cancer prevention strategies. The prevention strategies include cervical cancer vaccines, Pap testing with and without cotesting, and the follow up of abnormal results."

Want to learn more about the chapter? Interested in volunteering for an upcoming event or fundraiser, or just getting more information? Contact Denise Linton, DNS, FNP to learn more.
You can also visit the local events page to check the calendar of events for this and other local chapters.