In this episode we feature a conversation with Tamika Felder, a speaker who's appeared around the world to tell the story of her own cervical cancer journey and advocate for patients who often have difficulty finding their voices. She's the founder of Cervivor, a non-profit that supports cervical cancer patients, survivors, and loved one. She's also the author of Seriously, What Are You Waiting For? 13 Actions to IGNITE Your Life & Achieve the Ultimate Comeback.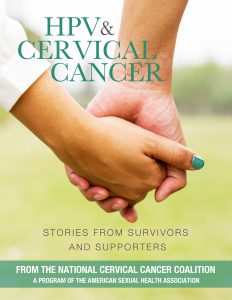 NCCC is pleased to offer a free ebook of essays from cervical cancer survivors and family members, providing personal perspectives on the physical and emotional impact of cervical cancer. HPV & Cervical Cancer: Stories from Survivors and Supporters is available free in a variety of formats.
A PDF version is available here, as well as a flipbook version. Additional formats compatible with most ebook readers (epub, mobi), including the Kindle, are available free through Smashwords. The ebook is also available (at the lowest required price through) Amazon and Barnes & Noble.
This collection offers a powerful message to those dealing with the impact of cervical cancer—you are not alone. We are grateful to the survivors and family members who have chosen to share their stories of pain, struggle, strength, and hope. We hope you will find inspiration in the stories here and will share the message of prevention.