NCCC Merchandise
NCCC branded merchandise promotes awareness of cervical cancer and HPV disease as well as supports our programs for women with cervical cancer and their families.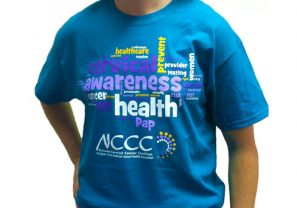 This teal tee is a perfect choice to wear during Cervical Health Awareness Month in January. The 100% cotton t-shirt offers messages related to cervical cancer prevention in a bright, bold way. Shirts are only $15 each (shipping included) and come in sizes S, M, L and XL.
---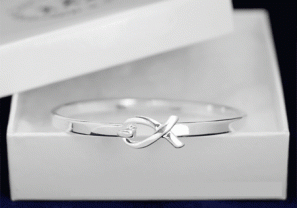 This handmade, sterling silver plated ribbon bracelet is an elegant way to show your support for cervical cancer awareness. The bracelet, approximately 8 inches in diameter, interlocks with a ribbon. Each bracelet comes in a gift box with cotton insert. $15 each.
---

The NCCC awareness bracelet is the perfect way to share the message of prevention and raise awareness of cervical cancer and HPV disease. The teal and purple bracelet reads "Prevent and Detect Cervical Cancer" and includes the NCCC website on the inside. Sold in packs of 10 for $10. Shipping costs included.
---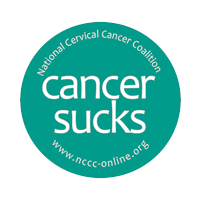 The message on the button is clear: Cancer sucks! The button from NCCC is a great way to raise awareness and start discussion about cervical cancer prevention. Sold in packs of 10 for $10. Shipping costs are included.
---

The NCCC key ring holder is an attractive and functional way to your show your support for NCCC and the women and families we serve. A single key ring holder is $9.95, shipping costs included.
---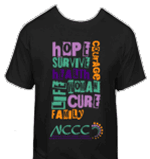 100% cotton t-shirt. Front: NCCC logo. Back: Prevention and Early Detection Saves Lives. Available sizes are Large Child/Youth, X Large Child/Youth (which should fit a small adult), and XL Adult (definitely an XL shirt). All sizes available for $15.00 per shirt. Shipping costs are included.
---

Bravelets has a line of teal and silver, "Be Brave" jewelry and donates $10 for every item purchased to the NCCC.
---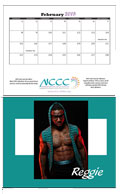 The West Atlanta Chapter of the National Cervical Cancer Coalition is pleased to present two fundraising calendars for 2015: the Eye Candy calendar and the Fight Like a Girl calendar. The calendars feature volunteer models and offer facts about HPV and cervical cancer throughout. Proceeds from calendar sales support the chapter's educational and outreach activities.