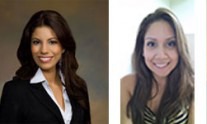 Chapter Leaders: Thania Balcazar and Ana Chico
Want to learn more about the chapter? Interested in volunteering for an upcoming event or fundraiser, or just getting more information? Contact one of the Houston chapter leaders to learn more.
You can also visit the local events page to check the calendar of events for this and other local chapters.
Coming in January: Zumbathon and Screening Event
University of Texas in Arlington
500 W. Nedderman Street
Arlington, TX 76103
Saturday, January 30, 2016
9:30 AM to 12:30 PM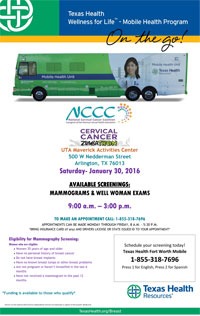 Join NCCC Fort Worth Chapter for a fun, energetic, and informative fundraiser!
Start with a great Zumba exercise, visit our vendor booths,have some breakfast treats, be inspired by our medical expert and survivor speakers, and have a great time knowing that you are contributing to a movement where our mission is to advocate for cervical health in all women by promoting prevention through education about early vaccination, Pap testing and HPV testing when recommended.
This year, we have partnered with Harris Hospital and Immunization Collaboration of Tarrant County to offer women's wellness exams, mammograms, and HPV vaccinations.
Click here to download a flyer (in English and Spanish) about the event.
You can register for the Zumbathon here.
Events
Filed in: