Donate to NCCC
The generosity of many donors enables NCCC to address the cervical health needs of women across the United States and internationally. Your donation can help support NCCC's programs and services. NCCC is a program of the American Sexual Health Association (ASHA), a registered 501(c)(3) tax-exempt organization, and contributions to NCCC are tax-deductible in the U.S. If your employer has a matching gift program, you may be able to double your gift to NCCC; please check with your human resources department. NCCC also accepts gifts of stock, which may offer you significant tax advantages.
Online donations for NCCC are managed through ASHA. When you click on the "Donate now" button, you will be taken to ASHA's Network for Good donation page. Simply choose NCCC under the Program Designation menu to ensure that your donation is directed to the correct program. (See example below)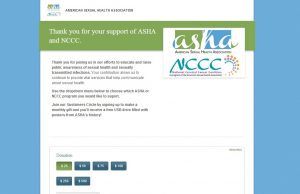 Donate by mail: If you prefer to donate by mail, simply download and complete the donation form and mail it to us at NCCC, PO Box 13827, Research Triangle Park, NC, 27709
Donate by phone: 800.552.4375
Questions? Call the Development Office at 800.552.4375 or email us at nccc@ashasexualhealth.org.