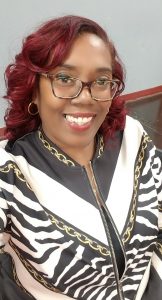 My name is Dawn Green and I live in Tyler, TX. That is deep in East Texas.  I wear several hats as I hold a full-time job and run my own business. However, cancer advocacy is my life passion.
My mother was diagnosed with lung cancer in 2005 and passed away in 2006.  After going through diagnosis, treatment, insurance battles, etc., I was fortunate to be able to advocate for my mom during her cancer journey.
My passion for cervical cancer advocacy came in 2016 when my goddaughter Bryana Gordon was diagnosed with Stage 3 cervical cancer at 23 years old.  Bryana passed away 11 months after diagnosis. Since Bree's passing, I have participated in several cervical cancer awareness events in her honor in Cincinnati, OH. That is how I was first introduced to NCCC-Ohio.
It is my goal for the NCCC-Tyler chapter to provide cervical cancer/HPV awareness through education—from prevention, vaccination, diagnosis and treatment.  It is our goal to support those newly-diagnosed to those in remission, and to engage cervical cancer survivors by allowing a platform for them to share their journey. Lastly we want to build a lasting relationship with the medical community to ensure we are able to provide the most current information regarding all available services available to cancer patients and survivors.
Bryana's Story
Imagine being an active, healthy, BEAUTIFUL 22 year old in the prime of your young adult life and two weeks before your 23rd birthday ,you receive the most scary, life-altering diagnosis that anyone could possibly receive…cervical cancer stage IIIB.  Bryana~aka~BREE was a carefree young woman who was working two jobs (hair stylist and MUA) when simple back pain changed her life forever.
In late 2015, Bree started having unbearable back pain, discharge, and unusual menstrual cycles which led to several ER visits with misdiagnosis's from ER to ER.  Finally in March 2016, her dad (Ryan Gordon) decided that he was not going to leave the hospital without them telling him, "What was wrong with his baby girl!!" The subsequent findings were that not only did Bree have a large tumor, but she also had stage IIIB cervical cancer, and at that moment no treatment options were offered—only palliative care.  Because Bree's family refused to give up, they found a new oncologist that started a treatment plan that included both radiation and chemotherapy. The initial treatment of radiation and chemotherapy was successful; however, subsequent scans showed the cancer had spread to Bree's stomach.  She completed her second round of chemo to treat the spot on her stomach, but unfortunately the cancer continued to spread.
In October of 2016, Bree did a Facebook live of her removing her hair weave after having chemo. This video has received over 5 million views and continues to inspire and empower women who lose their hair during treatment.
On March 2, 2017, Bryana passed away in hospice care.