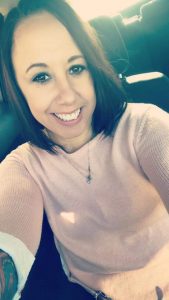 My Name is Jennifer. I am 42 years old and I am a mother of two amazing children and a grandmother to a beautiful boy full of energy and love.  I have lived in Florida for about 32 years, born originally in Connecticut. I have been blessed in life to have participated in a lot of great careers not settling in one because I want to experience everything I can in the amount of time god has given me. Every aspect of my life I put a 110 percent in, because there is no other way to succeed.
I am currently working in home health, and before that I was a Vet Tech, I like to help those that sometimes do not have a voice to help themselves.
I am a two-time cervical cancer survivor, I did not lead with this because this is not who I am it is what I went through. I was alone when I went through this, and I want to help others not to have to deal with it, alone or otherwise. I have been cancer free for almost 4 years. It took me a little bit of time to decide how I wanted to use this experience in my life and after doing some research I decided I wanted to raise awareness, because knowing what I know now things may have been different if I had been educated. I have a beautiful daughter and daughter in law and I want to be able to help educate and spread awareness, from my own personal experience.