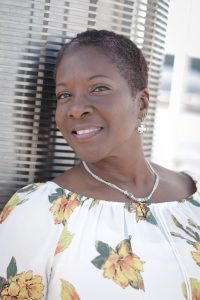 "My name is Andrea Townsend. God has blessed me with two incredibly amazing boys who are now compassionate and intelligent men presently. They are the breath of my life. 
"I am a retired Army nurse of 23 years, a nurse of more than 30 years. I have had various positions throughout my career, but none that I have been more passionate about than women's health.
"I started my journey as an oncology nurse in 1996 with an emphasis on women's health for the last 10 years. I had a personal history with HPV in the late 80s and with early detection and proper treatment, I was able to eradicate any traces of HPV.
"I retired as a research nurse December 2019. I work with cervical cancer patients and the various clinical trials for cervical cancer.  Now I can work full time in my business as the CEO of Wo-Men in Touch Health and Wellness, LLC. I am passionate about women's health and always eager to spread the word about preventive health care.
"I am ecstatic to work with NCCC to assist in the education and awareness about HPV. There's part of an African Proverb that says, 'If you educate a woman you educate a family (nation).' I'm starting with this NCCC Chapter!"