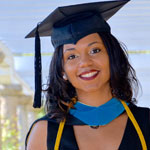 Chapter Leader: Alana Glover

About the Chapter
Alana is a recent graduate from Virginia Commonwealth University who has a passion for raising awareness for the issues revolving around cervical cancer and she has a passion for working with the youth. As a young woman, Alana has personally dealt with HPV and cervical cancer firsthand and personally experienced both the physical and mental effects that it can have.
Alana established this chapter on the foundation of not only promoting awareness to individuals in her community of cervical cancer regardless of age, but also to provide a support system and a safe place for individuals battling with HPV and cervical cancer. This chapter will not only raise money and awareness for the National Cervical Cancer Coalition, but will also focus on lifting each other up as a unit and as a community.
A Muse from Me to You: Cancer Benefit Edition
The Baltimore chapter recently partnered with local artists for a community event and fundraiser. The event brought together young artists and blossoming businesses to raise awareness and income for cancer survivors and organizations within the area, and was featured on a local news station. See chapter leader Alana Glover in the piece below.
Want to learn more about the chapter? Interested in volunteering for an upcoming event or fundraiser, or just getting more information? Contact Alana Glover to learn more.
You can also visit the local events page to check the calendar of events for this and other local chapters.
Filed in: