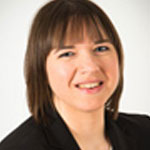 Chapter Leader: Jessica Kraeft
A Message from Chapter leader Jessica Kraeft for Cervical Health Awareness Month
January is Cervical Health Awareness Month
You Can Save a Life!
Dear friends, family and colleagues,
Some of you may know that my mother passed away  from metastatic cervical cancer at the age of 56. Watching the suffering she endured from this disease was the most difficult time of my life, as she was previously a vibrant, active and independent woman.

Nothing will ever replace the relationship I had with my mother; however, I have started a chapter of the National Cervical Cancer Coalition (NCCC) in her memory. I hope to raise awareness about this disease and educate the community and fellow physicians regarding this preventable cancer, so others will not have to endure the same pain and suffering that my mother did.
Many women in our communities don't know the risk from cervical cancer. As an abdominal imager, I have interpreted far too many MRI and CT scans of patients dying from cervical cancer. Little did I know that the same thing would happen to my own mother.
But, every gift helps inform at least one more woman understand her risk and what to do to avoid cancer. Cervical cancer is the only cancer we can wipe out in our lifetime. Last year in the United States, nearly 13,000 women were diagnosed with cervical cancer, and more than 4,000 women died.
The NCCC, a program of the American Sexual Health Association, a more than 100-year-old nonprofit, will help me with my personal goal of educating physicians and women in our communities so that no one need ever die of cervical cancer again. It is entirely too hard to see someone you love die of a preventable disease.
The NCCC and its members across the United States will keep working until cervical cancer stops taking the lives of our loved ones. I hope that you will aid in this effort by making a donation today. Even as little as $10 will make a difference.
Thank you for your generous support.
Most Sincerely,
Jessica J. Kraeft
P.S. If you know of anyone who may be interested in donating, please feel free to download a copy of this letter and forward!
---
Want to learn more about the chapter? Interested in volunteering for an upcoming event or fundraiser, or just getting more information? Contact Jessica Kraeft to learn more.
You can also visit the local events page to check the calendar of events for this and other local chapters.
Filed in: