Survivor Stories
Below are the very personal stories from women battling cervical cancer and an "archive section" with a few of the past years' stories too. You may also submit your personal story on how you are battling issues related to your cervical cancer or persistent HPV disease.
While this section focuses in on cervical cancer survivors, there will also be comments from women that are battling persistent HPV precancerous lesions and family members and friends of cancer survivors as well. As Mrs. Randi Kaye, the co-founder of the NCCC stated; "No one person is a statistic." Each person has their own personal battle.
To read stories from survivors click the "I am a cancer survivor" link below. Stories from family and friends at at the "I am a friend / relative of a cancer survivor" link. To share your own story, click the "Submit Your Story" button below.
---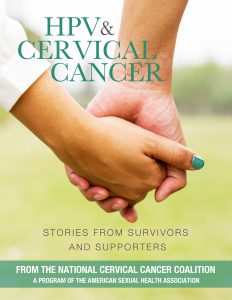 NCCC is pleased to offer a free ebook of essays from cervical cancer survivors and family members, providing personal perspectives on the physical and emotional impact of cervical cancer. HPV & Cervical Cancer: Stories from Survivors and Supporters is available free in a variety of formats.
A PDF version is available here, as well as a flipbook version. Additional formats compatible with most ebook readers (epub, mobi), including the Kindle, are available free through Smashwords. The ebook is also available (at the lowest required price through) Amazon and Barnes & Noble.
This collection offers a powerful message to those dealing with the impact of cervical cancer—you are not alone. We are grateful to the survivors and family members who have chosen to share their stories of pain, struggle, strength, and hope. We hope you will find inspiration in the stories here and will share the message of prevention.